HG27
Hagon Twin Shocks  30005SS
300mm unladen between mount centres
Triumph 3TA and 5TA


Road Shock 
- Slim-Line Chrome Spring, Black painted 28mm sealed damper unit with slim-line chrome spring (SS), 3 position spring pre-load adjustment by enclosed cam. Supplied as complete pair with mounting bushes.
Hagon Twin Shocks outperform the original fitment Girlings in both function and build quality. The spring weight and damping resistance are preset to be comparable to the original factory settings. 2 year guarantee.
Fitment: Triumph 3TA T90 350 and 5TA T100 500 twins from 1958 to 1968
Replaces: Girling 64053946, 64054200
    HGS2  18kg Medium weight springs are fitted as standard. 
    HGT1  C spanner to adjust spring preload included with new shocks.
Alternate springs are available for differing load requirements, and may be swapped at no charge when purchasing new shocks:
    HGS1   16kg Lightweight Springs
    HGS3   20kg Heavyweight Springs
    HGS4   23kg Extra Heavyweight Springs
Spring Cover Sets for a more traditional, or custom, look are sold separately and we can fit these for you at time of purchase.
    HGC1  2 x Black Top, 2 x Polished Bottom (completely enclosed springs)
    HGC2  2 x Polished Short Top Cover (2/3 of spring still visible)
HG27 Dimensions: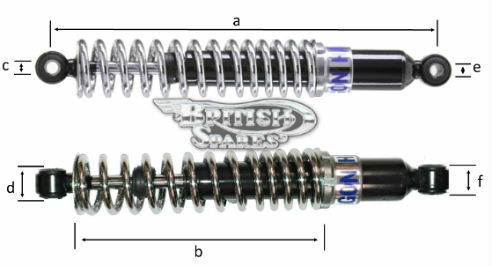 a = 300mm (12.6in.) unladen length measured between centres.
    b = 200mm (8.3in.) fitted spring height on softest preload setting.
    c = 10mm (Suits 3/8in. mount bolt)
    d = 24mm (Suits 1in. wide mounting)
    e = 10mm (Suits 3/8in. mount bolt)
    f = 24mm (Suits 1in.wide mounting)